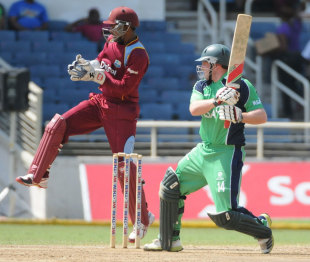 Featured in ESPN cricket info
April 23rd 2014
Ireland's two ODIs against Sri Lanka will be streamed live via YouTube after an agreement was struck with Irish online TV provider Aertv. The broadcast, which will be supported by the ICC's Development Programme, will make use of four high-definition cameras as well as replays and commentary.
The deal is similar to last year's arrangement with Quipu TV for the visit of Pakistan, which was viewed by almost 300,000 people. Sri Lanka will prepare for their tour of England with one-dayers against Ireland at Clontarf on May 6 and 8.
"We've seen with previous broadcasts just how much of an appetite there is for cricket coverage, and it's fantastic for Irish and cricket supporters worldwide to be able to view these matches online," Cricket Ireland's chief executive, Warren Deutrom, said. "It's another important step in securing the long-term legacy for international cricket in Ireland as we look to take the game here to a higher level and a wider audience."
The games will be streamed on the Cricket Ireland website and its YouTube channel, as well as on Dublin-based Aertv's website. Ireland's recent trip to the Caribbean, where they beat West Indies for the first time in a T20 international, was also broadcast online.