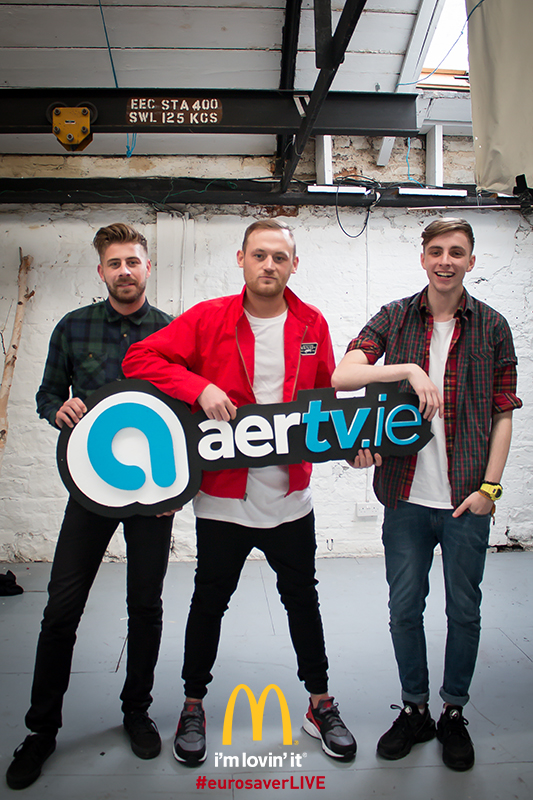 For Immediate Release
30th April 2014
Irish online TV platform, Aertv, in association with McDonald's and Joe.ie, will live stream O.R.B and Gavin James on Friday 16th May 2014 to a worldwide audience.  This is the second #eurosaverLIVE concert and follows on from the success of Tinchy Stryder coming to Dublin last year to kick off the series.
The Tinchy Stryder live stream received just under 10,000 views on Aertv and was the second most popular show on that day, being beaten only by the Late Late Toy Show. With the news that O.R.B and Gavin James will take to the stage for the second series, the expected numbers are to be bigger and better.
Philippe Brodeur, director at Aertv said, "After we had such fantastic feedback and success with the Tinchy Stryder gig, the team are delighted to be back working with McDonald's and Joe.ie on what is shaping up to be an even bigger event. Aertv provides real accessibility to this unique music series and we love being able to engage with people all over the world."
O.R.B has had massive success with their Number 1 song "Feel it in your Soul" being one of the most played on Irish radio this year. They will release their highly anticipated second album on 3rd May, ahead of the #eurosaverLIVE gig. The band said, "We're really looking forward to working with McDonald's and Joe.ie on the upcoming #eurosaverLIVE gig in Galway. Having it streamed live by Aertv gives our fans all over the world a great opportunity to see us perform songs from our new album 'All We Are'."
The super talented Gavin James is a natural live performer. Since signing a record deal on his 21st birthday last year, he has been growing in popularity with hits like "At Last" and "Say Hello".
People at home are encouraged to share and get behind this musical treat by spreading the word to friends and family outside Ireland, to tune in and enjoy #eurosaverLive through Aertv. It promises to be an incredible night for Irish music lovers throughout the world.
To follow the event on Twitter, use the Hashtag #eurosaverLive and follow @Aertv @Joedotie. For your chance to WIN tickets to this exclusive event, check out Joe.ie