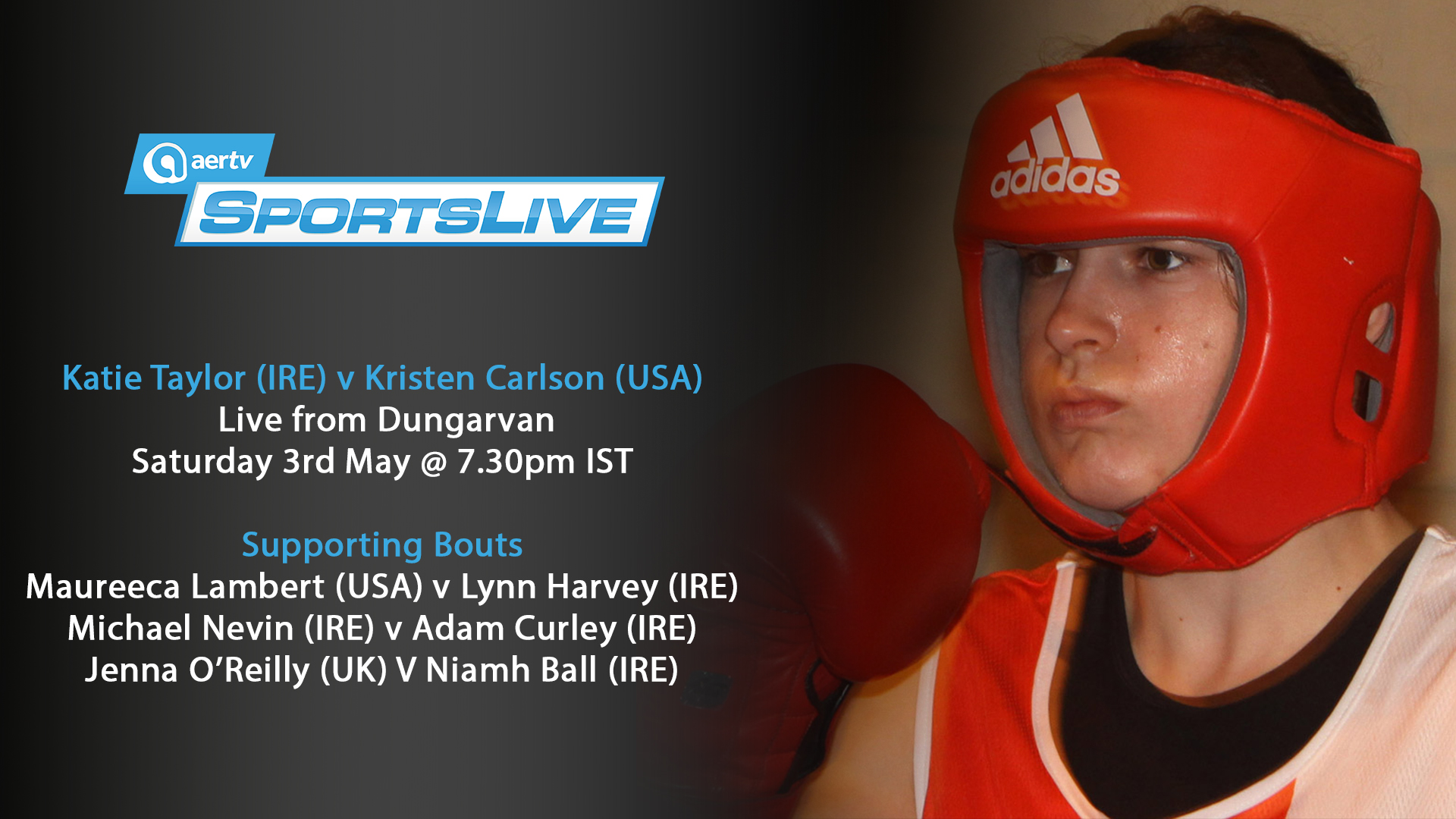 Aertv will live stream Olympic boxing Champion's fight this Saturday (3rd May)  
The 27-year-old Wicklow fighter will take on USA Champion, Kristin Carlson
Watch Live from Dungarvan anywhere in the world @7:30pm IST on Aertv SportsLive
Aertv, an Irish online streaming service, has just announced that they will live stream full coverage of Olympic hero, Katie Taylor's, fight this Saturday from Dungarvan, Co. Waterford.
The 27-year-old golden girl will take on the pride of Chicago, Kristin Carlson, in front of fans at the Dungarvan Sports Centre. The announcement of live stream coverage will come as great news to her many fans both home and abroad, who are unable to attend the event. Aertv will also provide live coverage of 10 other bouts on the night, including local National champions Davin Duggan and Connie Mc Donagh, who won the All Ireland's last month.
Coverage from Katie Taylor's previous fights against her opponents Marija Petric (Croatia's Champion) and Anais Kistler (Swiss Elite Champion), which take place this Thursday and Friday, will be shown before the live event kicks off in Dungarvan on Saturday night.
Philippe Brodeur, Director of Aertv said, "We got fantastic feedback and support when we stepped in last year to show Katie's fights from Bray and the Mansion House. We can't believe the lack of TV coverage our Olympic hero has had since her gold medal. Aertv are delighted to step in again to provide accessibility worldwide to this fight. Katie is the headline bout but we will also be covering 10 other bouts of top class boxing so it's also great exposure for the sport. I'm sure families of the fighters who can't attend will appreciate the coverage also".
Aertv has covered over 30 sports and over 500 games since their first live stream of an International hockey event in July 2012. The site gets an average 500,000 streams per month with live Sport being the number 1 driver of traffic. 45% of users access the service on mobile devices.
Aertv's live events are currently viewed in over 180 countries.  The company has strategically positioned themselves in the online sports broadcasting industry by being the number one provider of live streaming services in Ireland. Aertv regularly work with Irish organisations including Cricket, Basketball, Hockey and Athletics to achieve TV coverage online like never before.
Watch the live stream and coverage of Katie Taylor's bouts on Aertv SportsLive – http://sportslive.aertv.ie/