With five candidates left in The Apprentice, last night saw the dreaded round of interviews that dig down into the business plans of each contestant. There were tears, laughs and a lot of bumbling answers. You can watch next week's final on Aertv.
Five begin the interview process. Look at them there: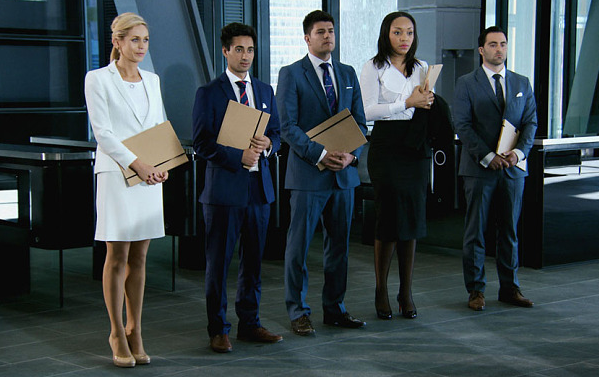 Even though we were still trying to figure out exactly how Daniel has made it into the final five, he is there anyway. These are the five candidates that will face off against Sugar's interrogators. Instead of a traditional task, the whole show will be them answering a barrage of questions about their proposed businesses. This is the first time we have heard a detailed explanation of each venture – and some of them were not good.
The interviewers: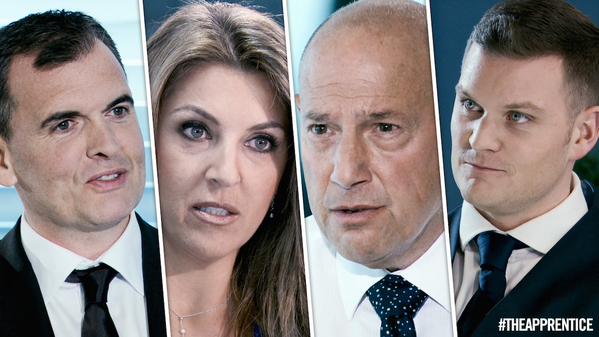 Each candidate will go through four separate interviews – each mercilessly examining every flaw in the business plans, and even in the characters themselves. It's not pretty when one of them goes into ultra-cruel-mode on a young, unsuspecting candidate. But that's why we're here – the cringe-based enjoyment.
Financials are, eh, important to a business
First up we see 23 year old Solomon on his way to the interviews. He hasn't included any financials in his business plan – which may prove detrimental to his chances of… securing financial investment. Call me a traditionalist, but investors like to know these things ahead of time.
The interviews took a turn for the surreal
You know those "where do you see yourself in five years?" questions in interviews? Well, The Apprentice goes more for the hypothetical phone call angle. Here Mark tries to sell something that the caller doesn't want to talk about. Slightly harsh, we felt.
Roisin eats food
Given her business revolves around ready-meals, obviously Roisin has some experience in the industry? Well, she does eat food.
This clip seemed like it was edited a little out of context, but the fact that Roisin has no experience might count against her. She has been the most impressive candidate so far, but the interviews are all about the business plan. She had a rough time of it from all.
Daniel's business plan did not go well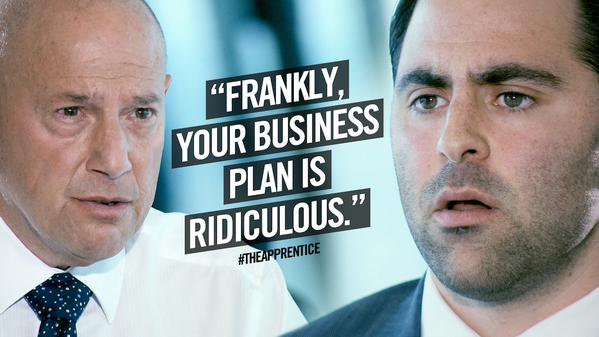 Infamously tough interviewer Claude pulled no punches on Daniel.
We wish we could have had this on repeat all series for him (and James. Definitely James):
Solomon gets thrown out of his own interview
Things hadn't been going great for Solomon, but he hit an all time low when Claude wouldn't even speak to him about his business plan because of its amateur nature. In fairness, it was a few pages long, and most of that was filled with logos for the proposed business.
What made it worse is that Solomon tried to leave via the wrong door on the way out. Can't get much worse than that:
Bianca started getting rattled
Bianca's business plan for tights was actually being received well in her first couple of interviews. Then the interviewers started digging down into her character and why she is so professional. It got to the point that she was almost being berated for not being more emotional and "fun" whilst working. The interviewers will do anything to break you, and sure enough Bianca started crying at one point. Seriously, nobody will come through this process intact.
So, to the boardroom
Given how badly the interview had went for Solomon, there was no surprise to see him swiftly booted out of the boardroom at Sugar's first opportunity. Despite being a very smart guy, Solomon had sailed through the process on good will, hardly ever being brought back into the boardroom and often not contributing to many successful tasks.
He will always have that interview with Claude to look back on though: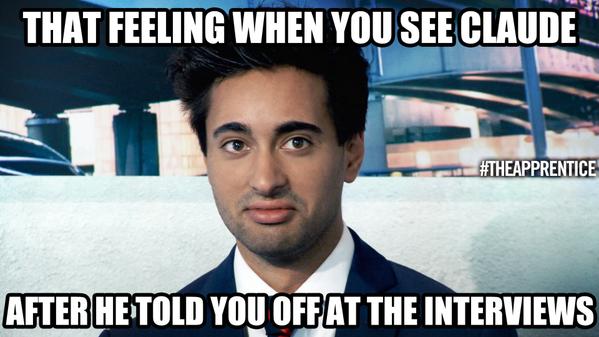 Ready-meal to go
By all accounts, Irish candidate Roisin had been the most impressive throughout the competition. She had the joint best win record when it came to tasks, and she had been the creative force behind many of the best ideas. Now, when she had to pitch her business, it just didn't work for her. Roisin's low calorie ready meals were just not innovative enough for Sugar and his crack team of interviewers to get behind. It was tough to see someone so talented go before Daniel, but that's how the game works sometimes: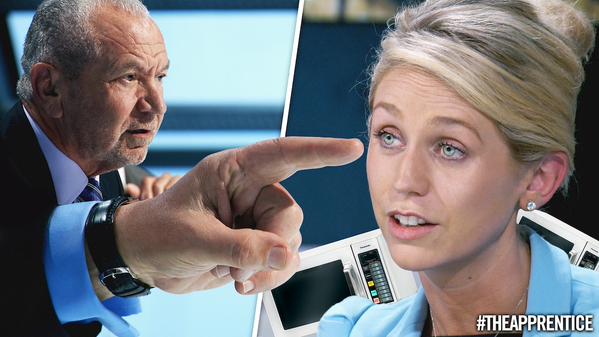 Three left, only two spots available in the final 
Daniel remains. Anyone who has watched the show for the whole series now looks on as one of its worst candidates is a breath away from making it into the final week. He's up against Bianca and Mark. Hold your breath.
And the finalists are… Mark and Bianca. Goodbye Daniel!
This was a tough week for all involved – we saw three candidates fired and the grand final is next week. Who will win? Bianca's hosiery business or Mark's digital marketing company?
At this stage, it feels like we just watched 11 weeks of meaningless tasks given that Sugar just picked the finalists on the merit of their respective business plans. Still, it was all fun and games while it lasted.
Now, to try and predict a winner…