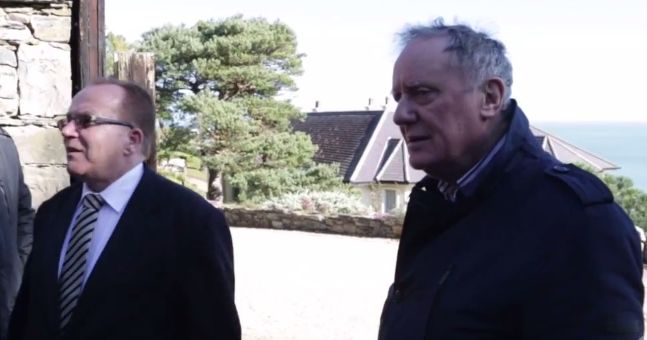 For those of you out there who didn't stay up last night to watch Vincent Browne tear in New Land League memeber Jerry Beades you missed quite the spectacle.
You got the feeling from the get go that this show was not going to be like the other. It began with Vincent Browne outside the gates of Brian O'Donnell's lavish mansion on Gorse Hill, Vico road in Killiney. Vincent was keen to gain access to the estate as in his eyes the home is no longer under the control of the O'Donnell family and he was eager to see the extent of extravagance that stood in one of the most prestigious and sought after locations in the country.
Following on from his visit to the O'Donnell residence Vincent had a chance to have a very nice chat with New Land League member Jerry Beades who for some mad, rediculous, insane and silly reason is backing the O'Donnells who owe the banks €70 million and is refusing to give up his €30 million mansion to cover the debt.
Anyway, here's one of the best clips from the show, watch out for the "bog standard" bomb shell Mr Beades drops!
And for those of you who would like a little more detail on this very bog standard house, here's an aerial view of the property. Ah sure look, he hasnt even got an Olympic size pool, just your bog standard one and only one tennis court! pathetic really